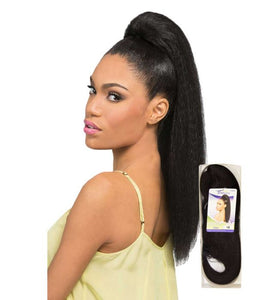 OUTRE TIMELESS PONYTAIL - TESS
PONYTAIL SELF STYLED IN 60 SECONDS
1. Put your hair up into a bun.
2. Cover bun with pony cap and insert front comb.
3. Pull drawstring to cinch cap around bun.
4. Style ponytail for desired look.
MAINTENANCE
Detangle the hair before wash.
Soak the wig using mild conditioning shampoo.
Gently swish the hair and avoid pulling or rubbing.
Condition & Rinse by letting water run through.
Pat dry excess water.
Gently finger brush and lay hair on flat surface to dry.
Dry naturally or use blow dryer with diffuser.