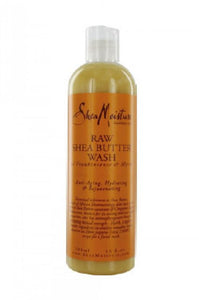 Turn every single bath into a spa-like experience when you use SheaMoisture's Raw Shea Butter Body Wash! Not only does this body wash calm your senses with refreshing scents of Frankincense and Myrhh extracts, it also does wonders for your dull, dry skin.
This is a deeply hydrating body wash that is specially formulated with organic Shea Butter that gently cleanses and deeply moisturizes dry, rough skin. The high Vitamin A content of raw Shea butter helps fight a plethora of skin conditions like dermatitis, eczema, wrinkles and blemishes, while also being effective against skin allergies. Blended with healing, anti-aging extracts like Frankincense and Myrrh, it calms and revitalizes dull looking skin while preventing early signs of aging.
This complete body care formula is good for all skin types, including sensitive skin. Its rejuvenating formula creates a symphony of aromatherapy while moisturizing skin with a blend of vitamins, natural oils and nourishing ingredients that leave skin soft and youthful. Trust us; this one will become a firm staple.