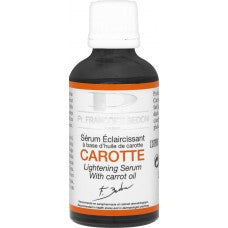 The Professor Francoise Bedon serum is an intense and very fast depigmentation care. It reduces the dark spots and unifies the tan. Active for phalanges, elbows and knees.
Lightening serum made with carrot oil helps the skin to better fight against scars and dark spots clearing up the skins complexion. Reinforces actions on skin imperfections and wrinkles.

Ingredients:Propylene Glycol, Liquorice (Glycyrrhiza Glabra) Extract, Aspergillus Ferment, Betula Alba, Citrus Limonum, Sambucus Nigra, Rubus Fructicosus, Tilia Vulgaris, Ethoxyudiglycol, Aqua, Sodium Lactate, Sodium Metabisulfite.
Made in EU
50ml/1.66fl.oz