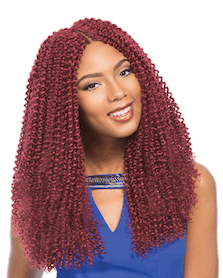 4 In 1 Crochet - 1 pre-Loop with 4 Strands
Innovative loop- Easy to loop & lock
Easy to Crochet - Protective style
Flame retardant
Less time and more hair
More voluminous and endless styling versatility
Fastest install
Soft to the touch
Lightweight and tension-free
Low maintenance
The Professional's Choice
Express yourself with the world-renowned classic, X-Pressions Braiding Hair. Made with the finest selection of premium synthetic capabilities, perfect for every protective hairstyle & natural hair look. Exquisite, classic, and trendy explore endless styling possibilities with X-Pression Crochet Braiding Hair.