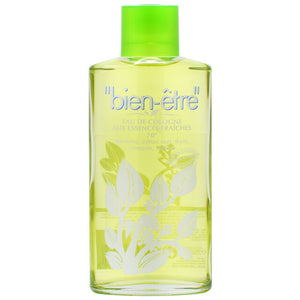 Bien-Etre Eau de Cologne  Fraiche 16.8 oz
L'Eau Parfumée des Familles was created by perfumer Sidonie Lancesseur. Bien-être L'Eau Parfumée des Familles includes notes of mandarin, freesia, pear, orange blossom, honey, musk, cedarwood, and oakmoss.
It's a light citrusy cologne that dries down to a powdery floral musk. Intended for the whole family, including children, it has the typical scent of French baby products–orange blossom. L'Eau Parfumée des Familles also weaves some crisp violet and grape notes, in addition to cedarwood, and its scent is at once lighthearted and sophisticated.
.